Our female bio-identical HRT protocols are administered using a variable dosing methodology. The diagram above reflects the cycle of a healthy female patient. Note that Estrogen and Testosterone peak at around Day 14 and that Progesterone peaks at about Day 21.
A healthy female cycle is 28 days. It's lunar. Day 1 is on the new moon, day 14 the full moon, day 28 is the end of the lunar cycle. Our variable dosing approach attempts to restore the lunar biorhythm. This benefits bone, tissue, brain, and sexual health for our female patients.
Using the diagram above as reference:
E2 (Estrogen) is ramped up and down for the full 28 days.
Progesterone is used only during the last 15 days.
Note that both drop to minimal dosing by day 28.
Testosterone may also be included in your protocol if deemed deficient.
All of our cream-based protocols are 100% bio-identical.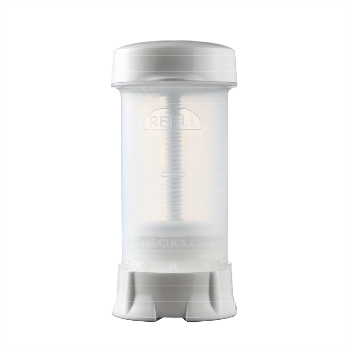 Your topical bioidentical rX creams will arrive in a TopiClick dispenser bottle (see image). TopiClick makes it easy to accurately measure the dose and apply topical medications. Each click or turn results in a click which is .25 mL of cream.
Alongside the TopiClick dispenser, our Doctors will provide you with a customized & personalized hormone replacement therapy calendar. This calendar will provide specific instructions on how many clicks of each rX cream to use throughout your 28-day cycle.
See below for a typical bioidentical hormone replacement therapy treatment calendar. The calendar is just an example of what we give to patients and reference clicks of each hormone for ease of use. Note that one click is .25 mL of cream.
E2/ T 10/1 mg/mL
Pro Cream 200 mg/mL
Cycle Day
AM
PM
AM
PM
1
.5 mL
.5 mL
2
.5 mL
.5 mL
3
.5 mL
.5 mL
4
.5 mL
.5 mL
5
.5 mL
.5 mL
6
.5 mL
.5 mL
7
.5 mL
.5 mL
8
.5 mL
.5 mL
9
.75 mL
.75 mL
10
.75 mL
.75 mL
11
.75 mL
.75 mL
12
.75 mL
.75 mL
13
.25 mL
.25 mL
.75 mL
.75 mL
14
.25 mL
.25 mL
.75 mL
.75 mL
15
.25 mL
.25 mL
.75 mL
.75 mL
16
.25 mL
.25 mL
.75 mL
.75 mL
17
.25 mL
.25 mL
1.25 mL
1.25 mL
18
.25 mL
.25 mL
1.25 mL
1.25 mL
19
.25 mL
.25 mL
1.25 mL
1.25 mL
20
.25 mL
.25 mL
1.25 mL
1.25 mL
21
.5 mL
.5 mL
.75 mL
.75 mL
22
.5 mL
.5 mL
.75 mL
.75 mL
23
.5 mL
.5 mL
.75 mL
.75 mL
24
.5 mL
.5 mL
.75 mL
.75 mL
25
.5 mL
.5 mL
.5 mL
.5 mL
26
.5 mL
.5 mL
.5 mL
.5 mL
27
.5 mL
.5 mL
.5 mL
.5 mL
28
.5 mL
.5 mL
.5 mL
.5 mL